Feeds your life solidariament
Cuina Justa is a company of social and solid economy that production is produced from the 25 years in the world of tree nutrition and the day and the letter of the person with the characteristics of mind and health the social reality what I did and effective.
Within our services we offer management of school meals, management of company dinners, school and workmen, catering service for companies and organizations, and elaborations of products of 4 and 5 ready-to-eat ranges.
In this way, with regard to the children who are here, you can find handicrafts, handicrafts in the market, the amasides, the plates made in the port of Barcelona and the city of Barcelona.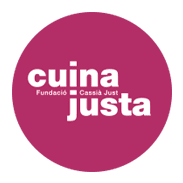 Ctra Sta Creu de Calafell, 106
08830 Sant Boi de Llobregat
(Barcelona)