We are a social economy company that works by carrying out the mission of the Cassià Just Foundation, in order to insert work and give job opportunities, within the world of gastronomy, to people with fragility, mental illness and / social exclusion, at the same time that we offer a quality, artisan, healthy and healthy food.
Quality in people
and in the products
For us, the results have 2 dimensions that can not be waived:
The creation of social and economic value
The generation of profit for the worker, the company and the society
Accreditations and recognitions
Our RSC
Corporate social responsibility responds to the objective that companies have to contribute to society in order to guarantee a good life for all, thus acquiring social concerns, inequalities or the environment.
That is why, despite being intrinsically a solidarity project, we also want to collaborate, and we do it, among others, with:
Càritas

Helps for school meals for those children who live in more precarious situations.

Community of Sant Egidi

NGO, Nutrition without borders
We are a social economy company, open to everyone, and that needs the courage, the thought and the work of all to bring the project forward. Because among ALL we make it possible.
Alex Pujol
General Director
Àngela Jover
General Subdirectorate Attached
Sofia Carrasco
Financial management
and administration
Carme Ocaña
Commercial 
Management
and Communication
Elena Calandria
Responsible
for Employment
Txiki Fuster
Responsible
for Operations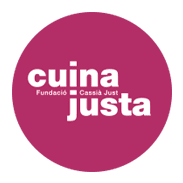 Ctra Sta Creu de Calafell, 106
08830 Sant Boi de Llobregat
(Barcelona)