A quality meal (first course, second, desserts, bread and water) prepared with healthy products that change according to the season, designed for those situations where you want to avoid journeys: meetings, training, workshops …
Km 0
We favor seasonal and proximity products and thus we are committed to traditional, well-stocked and unhurried cuisine. And we bring you wherever you are!
Health Guarantee
Because you will enjoy and take care of eating our menus! They have an adequate nutritional input and traditional cooking methods.
Solidarity
Just Kitchen generates jobs for people with mental fragility and risk of social exclusion. And we are also supportive of the environment, since all our containers are recyclable or even compostable.
All menus include water, cutlery and napkin
Roasted eggplant, anchovy, sesame and cream cheese
Fillet turkey with peach, parmentier and kimchi
Honey and cottage cheese with roasted nuts
12,75€ + IVA
Poke Bowl to choose:
Base: rice, avocado, spinach, wakame, radishes and corn.
· Salmon
· Edamame
· Iberic secret
Premium Fruit Salad
12,75€ + IVA
Rustic pumpkin puree with blue cheese and pumpkin seeds
Chicken tub with candied artichoke
Orange with chocolate crumble
12,75€ + IVA
Goat cheese salad
Tuna Premium Sandwich
Chocolate Rocky Road
9,00€ + IVA
How to make an order
Select menus and box number you want for each option (remember that the command must be a minimum of 8 units).
Enter our online store, call us at 936 303 234 or write to us at box@cuinajusta.com
We deliver between 12 and 2 pm.
The payment will be made by credit card.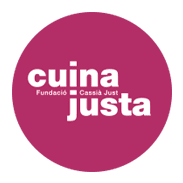 Ctra Sta Creu de Calafell, 106
08830 Sant Boi de Llobregat
(Barcelona)