We provide services for all types of business and institutional events. We adapt the catering to the typology of the act, the space and the number of guests. We customize the service according to the needs, gastronomic preferences and budget of the client. Our team will carry out a follow-up of the service at all times and will carry out an exhaustive quality control.
Services from Monday to Friday
Solidarity Box
Solidarity Box
The fastest and easiest option: deliver and food! We deliver the catering within our Boxes and you present it.
Catering
Cuina Justa mounts the delivery service and leaves everything ready to taste at the time and place indicated.
You can also choose the service with waiters, selected, customized according to events and agreement formats with Cuina Justa values.
Picnics
We also perform picnic service for your clients or workers, we will deliver them at the place or places indicated (we also perform pick-up service). All picnics are delivered in an individual recyclable bag.
We manage Cal Tudela, a 4-hectare field in the territory of Prat de Llobregat, within the Agrarian Park of Baix Llobregat where we cultivate local and seasonal products in an ecological way. We have a CCPAE certificate. The organic farming team consists of people with special weaknesses related to mental illness and / or social exclusion in the same locality. We work for the promotion of labor insertion in the territory.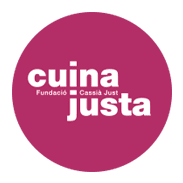 Ctra Sta Creu de Calafell, 106
08830 Sant Boi de Llobregat
(Barcelona)