Just Kitchen, the insertion tool
Cuina Justa as an insertion company directs its actions to people with special personal and social fragilities that have difficulties accessing and / or sustaining a job. Especially to:
· People with mental health problems (with or without a certificate of disability),
· Recipients of Minimum Income Income (RMI) / Guaranteed Citizenship Income (RGC)
· Young people over 16 years of age and under 30 years of age without training or work experience.
· Women who have suffered or suffer gender violence problems.
· Those over 45 years of age with difficulties in job integration
· Unemployed / long-term
· Newly arrived people with difficulties in job integration
The Cassià Just Foundation has designed a series of actions related to the life and work that they orient and accompany and that counteract the achievement of the mission.
These programs are created based on the idea of adjusted support that respects the individuality of each person and allows their own construction for a good Life with others, in some cases beyond the borders of the work space
Guidance and support service to the family
The SOAF is a reference service for all families where you will find spaces for coexistence and learning for all, oriented towards improving and improving relationships.
Social Club "Ocioteka"
Service that accompanies people with special fragilities from different leisure and / or leisure spaces, through activities, workshops and meetings with others in the community.
Accompanying service in the home and in the community
We offer support and support to those who require it at home and in community life
Pre and post-employment relationship service
Binds the person with employability difficulties in working time
Active aging program
Accompany with a new stage, old age, where relationships with the company and the environment are reformulated.
CAPCTUA project
Set of actions within the portfolio of services of the Mental Health Program offered to adolescents with mental risk states and their accompanying persons of proximity and relatives and educators.
Social housing project
From the Masia de Cal Tudela we work on the recovery and conservation of the landscape, the promotion of the agricultural world and respect for the environment.
We offer spaces for the connection between entities, services and citizens of the territory, generating social fabric and working from the fight against stigma
Work in network
Coordination of pluriate cases between social services, mental health services and education.
Volunteering
We have a small team of Volunteers that accompany the technical team at the Leisure Service of the Foundation, The Social Club Ocioteka. We are part of the Network of Voluntary Organizations of the City of Sant Boi.
The Cassià Just Foundation also generates Corporate Volunteer Workshops or CSR in different formats according to the orientation of the day and in different spaces of the Foundation.
If you want to participate in the Voluntary Work you can contact by sending an email to: elena@cuinajusta.com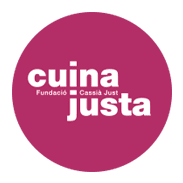 Ctra Sta Creu de Calafell, 106
08830 Sant Boi de Llobregat
(Barcelona)