At Cuina Justa we are specialized in our own and artisan production for all kinds of clients catering, hospitality, collectivities, aviation and nautical.
Handmade
Every day we produce all our products, without machineries or industrial production chains
Fresh
of proximity and ecological
We carefully select all the ingredients of our own orchard or farmers in the area.
Good
Strict and rigorous quality and sanitary controls in all processes.
Innovators
We have our own I+D team, so that we are continually developing and improving our range and variety of products.
Demanding
Excellence in product quality is one of our values.
Social
When you buy or consume one of our products you are helping integrate people with mental or social fragility.
sandwiches and sandwiches
Our sandwiches and sandwiches are elaborated daily in a crafted way with quality raw materials, products of proximity and ecological, of our own orchard.
In our catalog there are a large number of recipes to adjust to all kinds of preference and ensure adequate nutrition at any place and time of day.
We register our products in Catalan, Spanish and English.
Products also available for picnics and events.
Our variety of salads retain all their properties since we always use ingredients of the highest quality, proximity and with ecological products of our own orchard. They are made daily with a totally artisanal process.
They are ideal for being tasted at any place and time of the day as a complement or as a unique dish of a healthy, balanced and qualitative menu.
Product also available for picnics and events.
We have our own workshop and almost 25 years of experience developing dishes and bases for all kinds of sectors and areas of the restoration.
We cook with love, in a traditional way with selected ingredients, from local suppliers so that guests can enjoy our cuisine.
We are very strict and rigorous with all the health and dietary processes and protocols.
New Premium!
We have renewed and improved all the variety of V-Gamma Sanvitxos, more natural, without palm oil, without glutamate, or genetically modified organisms.
As a novelty we launch the new Sandwich Pizza, which has been a nice gastronomic game with its ingredients (quince, nuts and pizza cream). joc gastronòmic.
The premium sandvitoxs (Pizza, Club, Turkey, Veggie Tuna and Chicken) are now made with rye bread, a combination of 6 seeds and yeast of too much mother. The recipes have been all reviewed and improved, selecting their ingredients to achieve a much more natural product.
We consider the future as a constant process of innovation and improvement of the products, working in the hands of Tony Botella to become the benchmark in the V Gamma market.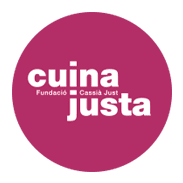 Ctra Sta Creu de Calafell, 106
08830 Sant Boi de Llobregat
(Barcelona)